Dyson TP02 Pure Cool Link Connected Tower Air Purifier Fan | Refurbished
Brand: Dyson
In the Box 2: Remote control
Features: Purifies all year round, Removes 99.97% of allergens and pollutants as small as 0.3 micron, Intelligent purification., Automatic night-time mode, Oscillation, Air Multiplier™ technology, Perfect for night-time purification
Machine Height: 40.07in
Voltage: 60Hz 120 volts
Machine Length: 4.33in
Power Source: Electric
Machine Width: 7.48in
Box Weight: 12.67lbs
Remote Control: Yes
Dimensions (HxWxD): 4.33in x 7.48in x 40.08in
Warranty: 6 Month Dyson Official
In the Box 1: Pure Cool Link™
On sale refurbished Dyson TP02 Pure Cool Link Connected Tower Air Purifier Fan.
Brand: Dyson
In the Box 2: Remote control
Features: Purifies all year round, Removes 99.97% of allergens and pollutants as small as 0.3 micron, Intelligent purification., Automatic night-time mode, Oscillation, Air Multiplier™ technology, Perfect for night-time purification
Machine Height: 40.07in
Voltage: 60Hz 120 volts
Machine Length: 4.33in
Power Source: Electric
Machine Width: 7.48in
Box Weight: 12.67lbs
Remote Control: Yes
Dimensions (HxWxD): 4.33in x 7.48in x 40.08in
Warranty: 6 Month Dyson Official
In the Box 1: Pure Cool Link™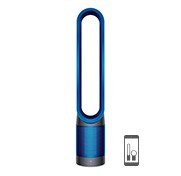 Visit our store for other hot sales of the season.
Disclosure: Some of the links in this post are affiliate links and if you go through them to make a purchase I will earn a commission. This helps me maintain the site to continue serving you and other users.
Specification:
Dyson TP02 Pure Cool Link Connected Tower Air Purifier Fan | Refurbished
| | |
| --- | --- |
| Manufacturer Color | Iron/Blue, White/Silver, White/Silver 2 |
| Warranty | 6 Month Dyson Official |
| Power Source | Electric |
| Remote Control | Yes |
| Box Weight | 12.67lbs |
| In the Box 1 | Pure Cool Link™ |
| In the Box 2 | Remote control |
| Brand | Dyson |
| Machine Length | 4.33in |
| Machine Width | 7.48in |
| Voltage | 60Hz 120 volts |
| Machine Height | 40.07in |
| Features | Purifies all year round- Removes 99.97% of allergens and pollutants as small as 0.3 micron- Intelligent purification.- Automatic night-time mode- Oscillation- Air Multiplier™ technology- Perfect for night-time purification |
| Dimensions (HxWxD) | 4.33in x 7.48in x 40.08in |
Sorry no more offers available